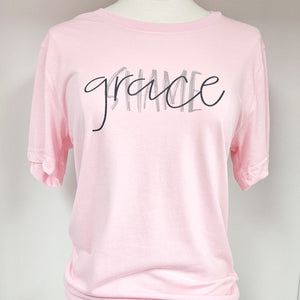 The Grace Over Shame Shirt.
Therefore, there is now no condemnation for those who are in Christ Jesus, because through Christ Jesus the law of the Spirit who gives life has set you free from the law of sin and death. -Romans 8:1-2, NIV
Your purchase provides mentoring, connection and opportunities for young women who have aged out of foster care. You are helping to break the cycle of foster care!
Items are handmade by Hope + Vine Artisans. Slight variations in shape, color, and size may occur.