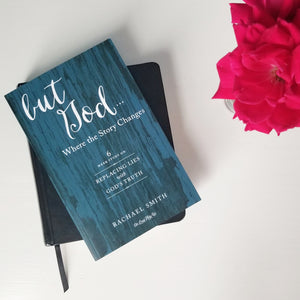 We have all listened the lies being whispered in our hearts and minds. But if we expose those lies, we have power over them and can then replace them with truth.
but God…Where the Story Changes
A six-week study on replacing lies with God's truths.
Week-One is the introduction and it addresses preparing ourselves to replace the lies with truth. Weeks Two through Six cover five truths that God says about us: Loved, Pursued, Redeemed, Beautiful, and Enough.
This has been designed to be a very simple study. There is essentially no preparation work for the leader, and no homework for the participants. The focus is on discussion and being honest with oneself.
Your purchase provides mentoring, connection and opportunities for young women who have aged out of foster care. You are helping to break the cycle of foster care!