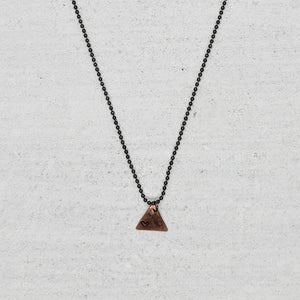 The Chosen Necklace.
All of our inspirational items serve as a reminder of God's truth for your life. The symbol for adoption is a heart intwined with a triangle, representing the love of the birth parents, the adoptive parents, and the child. Likewise, we have been adopted into the family of God

God loved us and chose us in Christ to be holy and without fault in his eyes. God decided in advance to adopt us into his own family by bringing us to himself through Jesus Christ.  -Ephesians 1:4-5
Triangles are hand stamped copper.
Your purchase provides mentoring, connection and opportunities for young women who have aged out of foster care. You are helping to break the cycle of foster care!
Items are handmade by Hope + Vine Artisans. Slight variations in shape, color, and size may occur.