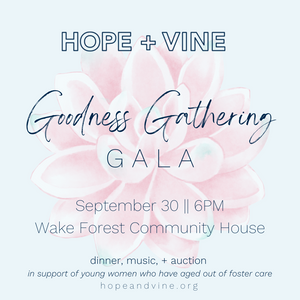 Hope + Vine invites you to our 2023 Goodness Gathering Gala.
-
We are excited to share the mission of Hope + Vine and the impact your gifts are having on the lives of young women who have aged out of the foster care system.
-
This year, our honored guest speaker is Kristen Thomas. 
Kristen is a foster/adoptive single mom who also aged out of the foster care system herself as a teen. While Kristen has recently closed her foster home to pursue higher education, her doors have remained open to other aged out foster youth as they transition into programs and or stability.
Music 
+
Dinner + Live Auction, with all proceeds benefiting the Artisans of Hope + Vine. 
-
Informally-Fabulous Attire (think cocktail style)
-
(Last year we sold out, so don't wait!!)