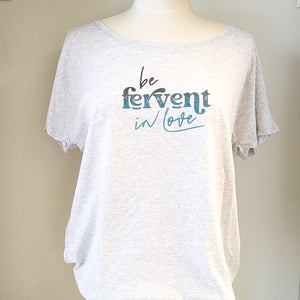 The Be Fervent in Love Shirt.
All of our inspirational items serve as a reminder of God's truth for your life. This shirt will remind you never grow weary of loving others.
And above all things have fervent love for one another, for "love will cover a multitude of sins." -1 Peter 4:8
Shirt is dolman-style, fits loose and flow-y.
50% polyester, 25% cotton, 25% rayon
Your purchase provides mentoring, connection and opportunities for young women who have aged out of foster care. You are helping to break the cycle of foster care!
Items are handmade by Hope + Vine Artisans. Slight variations in shape, color, and size may occur.